Grab the family for a "busting bronc" good time at any of these Texas rodeos.
Texas is widely known as the "Lone Star State." But what about Texas Rodeos? The truth is Texas has a thriving rodeo culture where more than $150 million is generated yearly by those who attend. As a result, thousands of visitors come to witness Texas' greatest spectator sport of bull riding, calf roping, steer wrestling, barrel racing, clowns, and more. It's an action-packed time of year when it's rodeo season! Check out these 12+ Texas Rodeos for you and your group.
The entire family will enjoy these American-style professional rodeos—from small-town rodeos to big-city rodeo competitions. Catch one of these Texas rodeos with the fam.
My favorite part, and I think it's a crowd favorite, is when the rodeo clowns come out and entertain the crowd. It's funny and a traditional part of a rodeo in Texas.
Texas Rodeo Facts
The first rodeos ever held were in Pecos, Texas, and Prescott, Arizona, in the 1880s. These events were the first to give prizes and charge admission.
The first indoor Rodeo took place in Fort Worth in 1917. By the late 1920s, the Rodeo had become an annual event throughout the United States.
The Rodeo is an American tradition and became the Official Sport of Texas in 1997.
Texas rodeo events are huge, popular, and sell out quite often.
12+ Texas Rodeos For The Whole Family
Any time of year is the perfect time to visit a rodeo in Texas. Some are held every weekend, and most have specific dates each year at the same time. These events are fun, exciting, and full of friendly competitive spirit. Rodeo season in Texas starts in January and runs all year long. Are you ready to go rodeo? This list begins with Texas rodeos in January.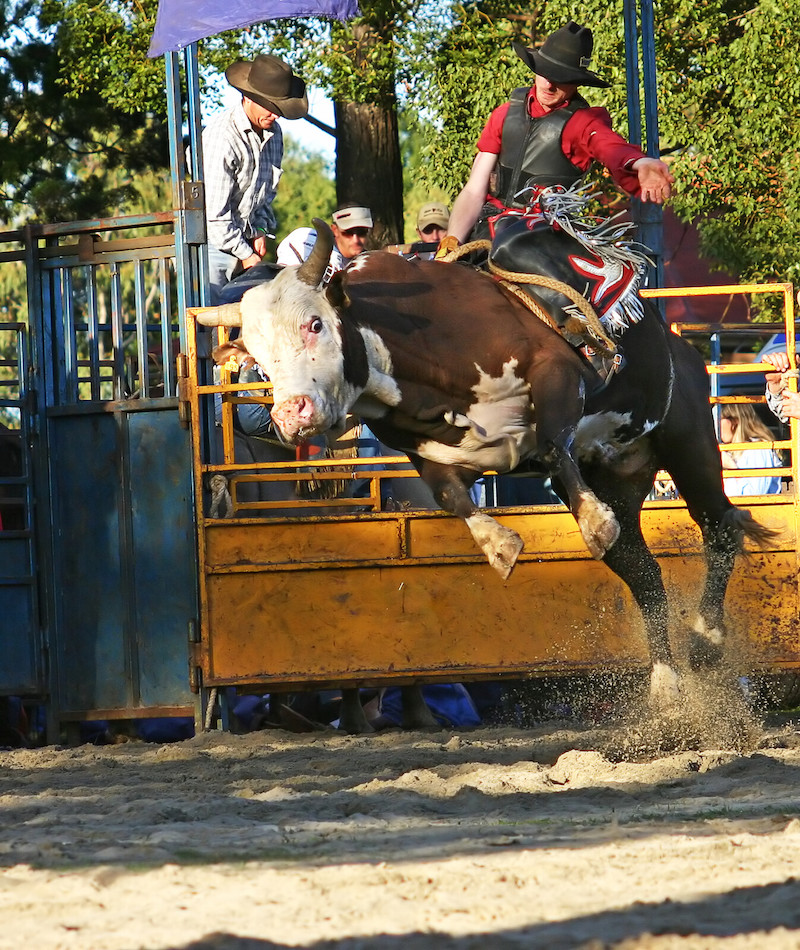 Fort Worth Stock Show & Rodeo
Time of Year: January
Next Rodeo: January 12 – February 03, 2024
If you're looking for a lot of fun, there's no better place to go than the Fort Worth Stock Show and Rodeo. It's been a celebration of Western heritage since 1896 and is the oldest continuously running livestock show and Rodeo in the United States.
After being at Will Rogers Memorial Center for almost 80 years, when Gene Autry was the first entertainer to appear at a rodeo, it moved to the new Dickies Arena in 2020.
San Antonio Stock Show & Rodeo
Time of Year: February
Next Rodeo: February 8-25, 2024
South Texas will be riding high at this indoor Rodeo next year. The San Antonio Stock Show & Rodeo is one of the most popular events in the city. It's held annually each winter at the AT&T Center and features performances by cowboys and cowgirls from all over the U.S. The Rodeo is just one part of the fun—livestock shows, auctions, trail rides, horse shows, and other events make it a great family outing year-round.
Tickets start at $30. Fairgrounds admission is included in the rodeo tickets. Entertainment, as of now, is TBA.
Houston Livestock Show & Rodeo
Time of Year: End of Feb/March
Next Rodeo: February 27 – March 17, 2024
The Houston Rodeo is the largest Rodeo in Texas. and the world's largest livestock show, with over two million visitors annually. This is an action-packed rodeo that lasts 20 days. The event includes a carnival, live music, agricultural exhibits, food vendors, and much more!
Tickets start at $25.
Note: If you're wondering, the World's Championship Bar-B-Que Contest is February 22 – 24, 2024.
Rodeo Austin – Real Texas Grit
Time of Year: March
Next Rodeo: March 2-23, 2024
Head to the Capital of Texas for a family-friendly experience – the Rodeo Austin Fair & Rodeo features ProRodeo action, live music, a carnival, and a livestock show.
Tickets vary in price – see website.
Mesquite Championship Rodeo
Time of Year: June-August
Next Rodeo: Every Saturday night (July 1)
Mesquite is the Rodeo Capital of Texas.
The world-famous Mesquite Championship Rodeo has been entertaining families for over 65 years. It's held at the Mesquite Arena, which is adjacent to the Hampton Inn & Suites Convention Center and within walking distance from our hotel.
Pro Tip: Boot Barn (all locations) offers $10 off on rodeo tickets​
West of the Pecos Rodeo
Time of Year: June
Next Rodeo: June 19-22, 2024
The World's First Rodeo – West of the Pecos Rodeo has been entertaining since 1883. Bulling riding is everyone's favorite at this Rodeo. Team roping, barrel racing, calf roping, steer wrestling, and steer roping are also very important to rodeo audiences.
About Pecos, TX. Forbes magazine recently listed Pecos as one of the fastest-growing small towns in America and the gateway to Big Bend National Park.
Stockyards Championship Rodeo
Time of Year: Every Friday & Saturday, 7:30 pm
The Stockyards Rodeo is a tradition that dates back decades and is the world's only year-round rodeo. Check it out every Friday & Saturday night. The Rodeo is held in the heart of Texas at the Cowtown Coliseum in historic Fort Worth Stockyards. This event draws thousands of spectators annually to watch some of the best compete in various competitions in Texas. This Fort Worth Rodeo features exciting bull riding, calf roping, steer wrestling, and barrel racing competitions. You'll also see plenty of barrel racing events for horses and mules! Other events include wild cow milking contests and ranch bronc riding.
The Stockyards Rodeo offers an incredible opportunity to see some high performances right here in Fort Worth—Texas' hospitality city!
Looking for more things to do in Fort Worth Stockyards? Check this out – Fort Worth Stockyards Family Fun.
Parker Country Frontier Days – Weatherford, TX
Time of Year: June
Next Rodeo: June 2024
A 3-hour nightly rodeo for four days in June.
For an authentic cowboy experience, head to the Weatherford Rodeo 2024.
Next year, get your tickets early because I hear it's a sell-out each year with standing-room-only! Amarillo wants to miss the veteran who drops down from a plane into the arena. More on this next year!
Invitational Rodeo – Glen Rose
Time of Year: July
Next Rodeo: July 21-22, 2023
The Invitational Rodeo is held at the Somervell Country Expo Center. A small town local Rodeo that gets 1000+ attendees each year. That's not small at all!
For tickets, call the box office at 254-897-4509.
Big Bend Ranch Rodeo – Alpine, TX
Time of Year: August
Next Rodeo: August 11-12, 2023
The Big Bend Ranch Rodeo was awarded the 2020 WRCA World Championship Rodeo of the Year.
Tickets are $10 and are only available at the gate. Kids 12 and under are free.
Parker Country Sheriff's Posse Ranch Rodeo, Weatherford
Time of Year: September
Next Rodeo: September 8-9, 2023
See Parker County Sheriff's Posse Ranch Rodeo
Amarillo Tri-State Fair And Rodeo
Time of Year: September
Next Rodeo: September 15-23, 2023
100 Years of Amarillo's Tri-State Expo, Fair & Rodeo is happening in a few months.
Tickets start at $5. Free parking at certain gates.
These Texas Rodeos are huge here in the Lone Star State! When you visit, put one of these rodeos on your to-do list!
PIN IT!