Here are fun things to do in Alvin, TX, for the whole family.
The history of Alvin dates back to 1845 and has many historical sites to visit. Still, it has become a metropolitan area conveniently located a short drive from Houston and the beach. With its charming southern atmosphere and a wide variety of attractions, Alvin, TX, is the perfect place to bring your family for a weekend getaway or for a day visit. Fun things to do in Alvin, TX, include feeding furry animals, unique eats, art in the city, and exercising with goats, if you will!
Texas Travel Talk partnered with Visit Alvin, TX, on a destination activation. This trip included accommodations, meals, attractions, and compensation. All opinions are our own.
Fun Things To Do In Alvin, TX, For Kids And Adults
The best things happen when outdoor activities involve nature, animals, and exercise …and Alvin, Texas, has plenty. From all the animals to see at the local zoo to trying your hand at goat yoga, taking your dog to the park, and viewing animal tree sculptures, there's so much love for animals in this town …that kids love too!
The city of Alvin is located halfway between Houston and Galveston, and though it's been a hidden gem for years, it's not anymore. You can be at the beach in less than 30 minutes; if you want to see Space Center Houston, it's a 15-minute drive.
That's not all – Alvin has done a remarkable job with its Alvin Foodie Trail and Alvin Art Trail. With so much to see, great food to taste, and a new distillery in town, your experiences in Alvin will forever be memorable.
Play Disc Golf At Briscoe Park
Briscoe Park is spread out across 42 acres and offers many fun things to do for the entire family.
A disc golf course with 18-holes and a par of 58 using Innova DISCatcher Pro 28 baskets.
Dog-friendly area with a lease-free zone.
A bike trail and walking trail
Playground equipment with swings and slides
Picnic tables
A great place to relax on the green lawn
and more
Address: 3625 Briscoe Dr.
Bayou Wildlife Zoo
For fun things to do in Alvin, TX, start your day at the Bayou Wildlife Zoo – the perfect place to make many memories with the whole family.
Ride the safari tram to see and feed the animals. The admission fee includes the tram ride, and a bucket of animal food is $5. Watching their long tongues dip in those buckets is worth every penny!
Before you leave the zoo, visit the petting zoo at Addie Lou's Barnyard to pet the farm animals. Great for small children.
Be sure to stop at the big red barn to see the giraffes, the miniature ponies, and the Bayou General Store. Who knows, you might get a visit from one of the deer farm animals (pun intended).
Alvin Art Trail
Alvin is full of color and history, with its murals and tree sculptures throughout the city. If you like colorful murals, the art trail is a site to see and is Instagram-worthy.
National Oak Park
As you stroll down the walking trail, notice the three tree sculptures in the park. These tree sculptures were made from falling trees from a previous tropical storm the town suffered—a way to show off art with a stump.
There is a picnic area under covered pavilions and picnic tables to enjoy a lunch or snack.
Address: 118 S. Magnolia St.
Restaurants In Alvin, TX, And The Alvin Foodie Trail
Not even six months old, the Alvin Foodie Trail is off to a great start. There are six restaurants – all offering something different: A coffee shop, the best shake place that also serves pizza or could be vice versa, and restaurants for breakfast, lunch, and dinner.
I visited all six restaurants from Friday afternoon to Sunday afternoon. Yes, I was stuffed, but boy, was it all delicious! You don't have to visit all of them in that short time as I did, but when you do, you'll be able to win prizes from Visit Alvin.
Pick up a food trail card from any participating Alvin restaurant or the Visiting Center. Filling up the card with five stamps gets you more prizes, plus a chance to win an Alvin weekend getaway, but you can turn it in with at least two stamps for a prize.
After your meal, be sure to have the restaurant stamp your card. Return your card to the Visiting Center for your prize(s).
1. Smokin D's BBQ Fusion – Bummer – they closed!!!
2. Grace Pizza & Shakes
OMG, I would return to Alvin just for another one of those delicious shakes. Oh, and I'll order pizza this time around!
Celebrate your birthday at Grace Pizza & Shakes with a Birthday shake. Three birthday parties were going on when we were there, and each had a birthday shake. It was topped high with – well, I remember cake on top and a lighted sparkler shooting out on top of that! It was pretty cool.
Address: 113 E. Sealy St.
3. Gordon Street Tavern
A very tasty menu at Gordon Street Tavern with its unique plates located in one of Alvin's eldest relics.
From the top in the photo above:
Devonshire Cream with mandarin oranges and strawberry puree.
Jammin Wagyu Burger – locally sourced from RC Ranch.
Go Pig Or Go Home – not your average cut of pork short rib. Cooked to perfection sous vide style and served with the most delicious mac -n- cheese.
Served as an appetizer – Warm Goat Cheese Spread
Served as an appetizer – Toast Aux Champignons
It's impossible to tell you which was my favorite, but I did a lot of damage to that Toast Aux Champignons – four types of mushrooms with garlic sauteed in sweet cream, parmesan, and green onions served with the best crust banquettes I've ever tasted.
With nine years in business, they are doing something right.
Address: 114 N. Gordon St.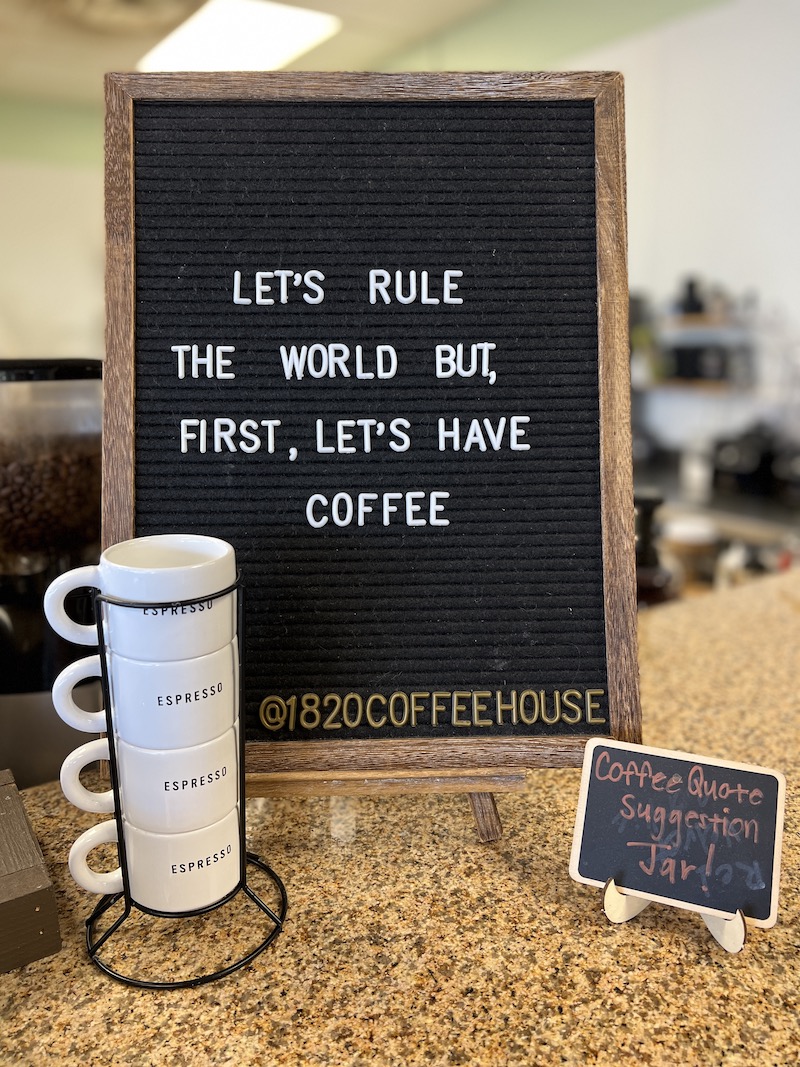 4. 1820 Coffee House
A local coffee shop serves the public with seasonal drinks and iced coffee flights. Have you ever had an iced coffee flight? I like to indulge in any type of flight because it's a great way to find a new favorite drink. With this one, I found a love for iced matcha with almond milk. I could tell it's a local's favorite, with everyone coming in and out and knowing each other. Check out 1820 Coffee House when in town.
Address: 419 W. Sealy St.
5. Juanita's Taqueria
Locals love Juanita's for breakfast and lunch, and a local favorite is Migas for breakfast which I ordered. You'll love this dish if you like crunchy pieces of corn tortillas, scrambled eggs and jalapenos, onions, and tomatoes. I also hear a side of Nopales is worth ordering with any meal.
Address: 106 S. 3rd St. Hours are 6 am to 3 pm.
6. MyLeigh's Cafe
Chef Penney went from catering for events to opening MyLeigh's Cafe serving made-from-scratch classic American comfort food such as soups, burgers, lobster rolls, and this mouthwatering turkey cranberry club on a croissant (cashier said, "good choice"). Her menu is full of many of her recipes and foods you love. The tuna melt must be good because it was sold out when I got there for lunch. But, if you like something a bit spicy, try her Ghost Pepper Cheeseburger – it's sure to get your tastebuds hopping.
Address: 2370 W. Hwy 6
Goat Yoga In Alvin, TX
I'm sure you've heard that the exercise trend is goat yoga. It's more like an experience you must try at least once. The goats know what to do and will jump on your back when the time is right. It was my first time doing goat yoga, and I loved all the attention from the goats, as I'm sure they did the same. It was a fun experience. Alvin Goat Yoga services a wide area, including Houston and Galveston.
Peredo Spirits Gentle Ben Tasting Room
A great distillery in town offering bourbon, gin, and vodka tastings. While you're there, let them tell you about the unique and innovative way they make their spirits. I was very intrigued by their story and how when I compared my favorite spirit to theirs—smooth and delightful. For a flight tasting, a tour of the facility, and to relax at a table or one of the couches while watching TV, head to Gentle Ben Tasting Room.
Places To Stay In Alvin, Texas
The Goatel On The Chocolate Bayou
The Goatel, The Luxe Loft @ Barn on the Bayou (Airbnb), is a precious loft above the barn for rent. There are two more available places to rent on the farm: a safari tent (soon to be upgraded) and a trailer. All three are as adorable as can be. And when you rent at The Goatel you'll get to play with the animals (the best part, in my opinion), including goat yoga!
Camp Mohawk
About eight miles south of Alvin is this 55-acre day-use park with overnight self-contained climate-controlled cabins spread out along the Chocolate Bayou. Camp Mohawk is a great place to get comfy in the woods and to let the kids run around the park.
La Quinta Inn & Suites
La Quinta Inn is a nice hotel close to downtown Alvin and convenient from the highway at 880 S. Bypass 35. This is where I stayed and enjoyed the open window at night. So glad the weather was good for that because I actually love hearing the sounds of the night.
Pro Tip: A complimentary breakfast is served every morning.
Other Attractions In Alvin
If you have more time to spend in Alvin, here are a few more attractions you may want to check out. I didn't have time to visit these, but I've read great things about each place.
Slover – Rogers Cottage (formerly Marguerite Rogers House Museum)
Froberg's Farm and Greak's Smokehouse. Check out their fall festival and corn maze going on now through 11/6/22.
Alvin's claim to fame – the Baseball Hall of Famer Nolan Ryan is from Alvin. Check out the Nolan Ryan Exhibit at the Alvin Historical Museum.
There you have it, fun things to do in Alvin, TX. I enjoyed my visit to this quaint southern town.
PIN IT!