Texas gifts are excellent for everyone on your gift-giving list!
If you haven't figured it out, we love all things Texas over here at Texas Travel Talk. Our Texas pride runs deep, and when it comes to gift giving, we like sharing our favorite gifts from Texas with our fellow Texans and those not so lucky to live in this great state. Check out these 11 top Texas gifts and bring home something for yourself! Who wouldn't want Texas souvenirs to display in their home or office?
You'll find something for everyone, from Texas souvenirs to Texas-themed gifts and many holiday gifts below. Everything from a cowboy hat and candles to fun Texas cookbooks. Use these considerations for your friends, family, and co-workers' holiday lists.
This list has options for the big spenders to wallet-friendly gifts. These gifts are unique, funny, and something your friends and family want!
11 Top Texas Gifts In 2023
Texas gifts aren't limited to a tacky t-shirt. With so many local artists, wineries, chefs, and authors from this great state, it is easy to purchase unique and classy presents for everyone in your life. Below are the top Texas gifts that we found to be the best. And it's never too early to start shopping for your holiday gifts.
Texas Themed Gifts Make The Best Texas Gifts Too
If you want to go all out on the Texas gift-giving idea for someone, like a gift for someone moving to Texas, consider a Texas-themed gift – like anything with the word TEXAS on it!! Oh, we can name a few.
1. Cowboy Hat
One of the best gifts is cowboy boots! I mean, nothing says Texas like a fresh pair of cowboy boots. You can dress them up and down and everything in between. Of course, they can be a bit pricey, but they last forever. And honestly, the more worn in they are, the better.
Straw, felt, leather. The possibilities are endless when it comes to cowboy hats. You can choose from a classic felt Stetson for the men or head to Flea Style: Dallas to make them unique. At Flea Style, you can choose decorations such as scarves, charms, feather matchbooks, and feathers to create the ultimate look for any style.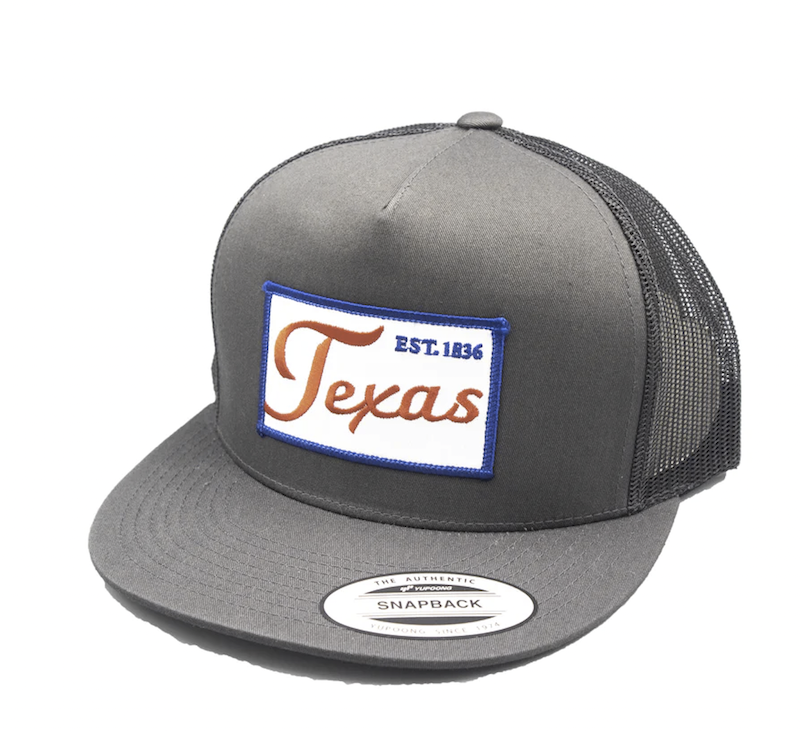 2. Texas-Style Baseball Hats
Baseball hats are my favorite accessories to buy for the men in my life. It's a great souvenir to represent your travels, favorite brand, or sports team. Last Stand Hats is a company based out of Austin with the coolest designs that feature your favorite college teams and players.
3. Made-In-Texas Candle
Have you ever walked into a Cavender's and said, "I sure wish they would bottle this scent up?!" Well, Circle E Candles has come pretty darn close! Their leather scent candle is a welcoming fragrance you want to fill your home with.
The candles are made in Fredericksburg, TX, and have a large store on Main St. Their top-selling candle scents are Leather, Home, Lavender Fields, and Hill Country Vineyard. It's like bringing a little bit of Texas home with you.
4. Texas Wine
Texas has no shortage of wine to choose from. Head down to Fredericksburg and drive along the 290 wine trail, and you'll see what we mean. Endless wineries sell amazing Texas wine with every flavor and price range you could dream of. And, if you can't make the trip to the Texas Hill Country, some wineries will mail their wines.
5. Texas Cookbook
A cookbook is a gift that keeps on giving! Whipping up favorite Texas dishes (like Texas Chili) is a great way for those not living in the Lone Star State not to feel so homesick.
"Texas Eats: The New Lone Star Heritage Cookbook with More Than 200 Recipes" by Robb Walsh is a cookbook that features Texas German heritage, barbecue, Tex-Mex, chili, and everything in between.
"The Homesick Texan Cookbook by Lisa Fain has over 125 recipes across the state. The cookbook includes recipes like biscuits, gravy, tres leches cakes, queso, and chicken-fried steak.
6. Texas Gift Basket
Do you have a friend who just moved to the state? If so, a Welcome to Texas Gift Basket might make them happy! Or you can do it yourself and fill a gift basket with your favorite food and spices around the Lone Star State.
An example of a wonderful basket would be to stock it with pecans, pecan pies, salsa, jelly, soup mix, honey, award-winning Texas olive oil from Dripping Springs, chili mix, beef jerky, pralines shaped as Texas, crackers, cheesecake mix, and more! This will stock their pantry and make them wish they had moved to Texas sooner!
7. Texas Christmas Ornament
Espacio Handmade is a woman-owned business based out of Austin, Texas. They make custom wood and leather ornaments that make for perfect gifts. Whether celebrating the first Christmas, a new house, or marriage, these high-quality ornaments look beautiful on any Christmas tree. They do have some of the best Texas-themed ornaments I've ever seen.
8. Texas Bluebonnet Seeds
Bluebonnets are the state flower of Texas and are gorgeous! Although these wildflowers only bloom for a few short weeks a year, they bring so much beauty to the state. You'll see flowers along the side of freeways, fields blooming by lakes, and families dressed in matching outfits at any open patch they can find to get cute photos in the flowers.
Giving those who love gardening bluebonnet seeds is a great way to transform any garden for a few weeks. They are easy to maintain and come back year after year.
Other Texas Bluebonnet-themed gifts to consider:
kitchen towels because we all love kitchen towels!
pot holders because we never have enough – ha!
coasters – who is really using them?
key chains – I have one I like and nothing else!
Bluebonnet earrings (if you think they will wear them)
wine stoppers – okay, yes, please
wine openers – I collect these
coffee cups – seriously!
9. Magnets Make The Best Texas Gifts
Magnets are the one thing I like to collect from my travels. They don't take up much space, are inexpensive, and are a great way to commemorate your travels. You can display them on your refrigerator or buy them for your friends as a reminder that you were thinking of them during your trip.
10. A Book About Texas
With its rich history, from the Texas Revolution, cattle drives, railroad construction, and oil boom to the modern day, Texas is a diverse and proud state. It's hard to find a book that skims all the important details of the Lone Star State.
Lone Star: A History of Texas and The Texans by T.R. Fehrenbach is one that history buffs will enjoy. It's a slow read at times but covers a lot of ground and gives a detailed glimpse into how Texas has evolved over the years.
If you are looking for something more light-hearted and funny, then Y'all: The Definitive Guide to Being a Texan by Jay Sauceda is the way to go. This book will teach you how to walk, talk and look like a Texan. Sure, it's poking fun at stereotypical Texas, but it has a LOT of truth to it.
11. Cowboy Boots
If you want to treat someone right, you can order them a custom pair of boots. Head to the Tecovas Boot store in the Fort Worth Stockyards for a fitting and create a custom boot you will love…You might as well get something nice while shopping for others!
What do you think about these 11 top Texas gifts? Which one is your favorite? I'm going with the Texas ornament for my friends!!
12. A Bonus!
Give a gift from a top spa retreat in Austin to someone you love!
PIN IT!