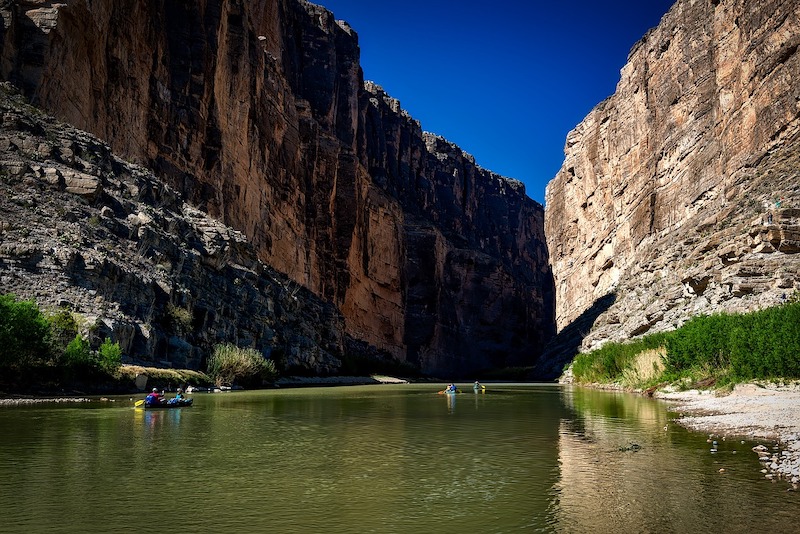 Check out these Texas River camping spots to pitch a tent or RV.
When you think of Texas, rivers are probably not the first thing that comes to mind. But there are plenty of rivers to enjoy, and river campsites are rare unless in a state park. Camping is one of the best ways to experience Texas, and there are many beautiful rivers you can camp along. River camping is a great way to get away with friends and family. You can go on a weekend trip and take your dog along, too! Here are amazing Texas river camping spots to put on your list.
River camping is an excellent option if you're looking for a unique outdoor experience in Texas. The Lone Star State has several beautiful rivers perfect for camping, fishing, and other outdoor activities.
Best Texas River Camping Spots
You can be in nature by camping in Texas near a river. I'm sure there are more, but these are some of the best places to camp near a river in Texas. From RV Parks, tent sites, and cozy cabins, there are plenty of places to camp outdoors by a river or a lake – it's all water!
Camping by a river is best in a tent or a sleeping bag. If this way of camping is your style, you're in luck. But you've at least got to love tent camping or have an RV because cozy cabins are hard to find or rent first. There are a few river camping spots in Texas at Texas State Parks, so keep that in mind.
There are plenty of places by the river to pitch a tent and enjoy all the river's activities. Your camping trip went up a notch by sleeping beside the river's edge. Nature lovers will tell you that sleeping by a river is the best camping experience – have you done it?
Texas Has Many Great River Camping Spots
Whether you're looking for a secluded spot or one closer to civilization, there are plenty of places to pitch your tent and enjoy some time in nature. These include the Guadalupe River State Park, Brazos Bend State Park, and Pedernales Falls State Park. You can also camp along the San Marcos River or Blanco State Park and Natural Area to spend time on a smaller body of water.
Blanco State Park and Natural Area
Texas Hill Country
The park offers many activities, including swimming, fishing, and hiking. Blanco State Park and Natural Area is a small park with about a mile of river. Swim, camp, and picnic can be done, along with everything a state park allows you to do. And I bet it fills up fast. Screen shelters are out here, too, for rent. Day-use entry is $5.
Colorado River
Between Austin and Bastrop,
I read a story about a couple who found an area on the Colorado River between Austin and Bastrop to camp for free. I don't know where, and according to him, finding places to camp along the rivers in Texas is hard to find unless you want to pay a fee into a park. Pay a fee at Colorado Bend State Park to find all kinds of campsites, picnic tables, and fire rings. Some sites are closer to the water than others.
Guadalupe River
New Braunfels
Guadalupe River State Park is in Comal County, just north of New Braunfels. The park offers camping in non-developed and developed areas, canoeing, hiking, and biking trails. The park is named for the river that runs through it. The Guadalupe River is a major tributary of the San Antonio River, which flows into the Gulf of Mexico at Boca Chica Beach near Brownsville, Texas.
Campsites are on a river terrace above the Guadalupe River in the walk-in tent area—100 Yards to the campsites (walking) – river nearby.
By The River RV Park and Campground in Kerrville, TX, is a peaceful park with 65 acres of nature trails and offers waterfront camping along the Guadalupe River.
Pedernales Falls State Park
Johnson City, Texas
Camping at Pedernales Falls State Park offers spectacular views and good weather. The park is not too far from Austin, so you can easily visit while in town and still have time to explore the city before heading out on your next adventure. I'm not sure how close you can camp near the river as the water can rise within seconds, but I bet anywhere in this park is excellent.
San Marcos River
If you're looking for a place to camp close to San Antonio but far enough away from the hustle and bustle of city life, then the San Marcos River is your best bet. Several campsites along this famous river offer everything from tent sites to RV hookups.
The San Marcos River is great for families with small kids because it's easy to access by car (no hiking to campsites), and there are plenty of activities like swimming, tubing, kayaking, and paddleboarding. You can bring your own watercraft or rent them from an outpost nearby. The water level can fluctuate throughout different seasons, so you may want to check out camping here before planning your trip – especially if you plan to float the river!
And remember, it's the cleanest river in Texas! See Leisure Resort for RV and tent camping or Son's Blue River Camp.
San Saba River
Top of the Texas Hill Country
San Saba River is a great place to go camping. It's a beautiful river, with many campsites along its banks. Many activities in the area include fishing, canoeing, and swimming in the river. Try using Hipcamp for this area.
Camping On The Frio River
Above San Antonio
Try Zubers River Camp and Garner State Park in Concan, TX, for river camping on the Frio. The park's busiest season is Memorial Day through Labor Day. Be sure to reserve your spot online. We floated the river a couple of years ago, and it was so low that we had to walk the tube in some areas. My uncle rented a home for his family, so we had to drive to the river. Camping along the Frio River would be amazing next time for this girl!
Brazos River
The Brazos is the longest river in Texas (and one of only two rivers over 1,000 miles long). The Brazos River flows through central Texas, passing by many towns before heading out into the Gulf of Mexico. Its name is derived from an indigenous word meaning "big" or "powerful." And powerful it certainly is. The Brazos can swell up to 2 feet per minute during heavy rains!
If you're looking for something more exciting than just sitting by your campfire at night, consider renting some tubes or kayaks at one of many nearby outfitters–or even going white water rafting! There are plenty of campgrounds on the Brazos River.
Tent camping on the Brazos River is a thrill no matter where you decide to pitch your tent. Below are a few places to do just that—PK and Cleburne, TX.
Possum Kingdom State Park (North Texas)
You can camp by the water at Possum Kingdom State Park, and swimmers can enjoy scuba diving and snorkeling.
You will find lakefront cabins for rent, but the Brazos River flows through Possum Kingdom Lake, so whether you camp by the lake or river, you're by the water!
Bee Mountain Ranch & Resort (Cleburne, Texas)
RV camping on large lots directly on the Brazos River is available. Experience weekend camping at Bee Mountain Ranch by pitching your tent in the shade right on the Brazos River to indulge in outdoor activities.
Brazos Bend State Park
Houston
Brazos Bend State Park is another great option if you're looking for river camping near Houston. The park has plenty of activities for families and outdoor enthusiasts, including fishing, swimming, and open hiking trails year-round.
Red River Camping – Texas
Horseshoe Bend (Whitesboro, Texas)
Horseshoe Bend RV Campgrounds is a secluded getaway from the city. You relax all day or walk nature trails, hike, canoe on the river, and do many more outdoor activities.
Paluxy River
Pecans on the Paluxy – a Hipcamp near Glen Rose, TX
Also, try Dinosaur Valley State Park for camping near the river.
East Texas River Camping
RV pull-through sites and waterfront cabins at Backwater Jacks, Caddo Lake, Karnack, TX, are available.
Search Hipcamp or Chandler River Park for river camping on the Neches River.
Caddo Lake State Park
This state park is a short drive from Jefferson, TX.
Pecos River Camping – Texas
West, Texas
Places to camp on the Pecos River are limited as most of the areas are private. Look on Hipcamp or Dyrt to find camping near the river on the lower banks. Bring your kayak! PS. There is no cell service in this area.
Here Are Some Facts About Texas Rivers: Trivia
The Rio Grande is the longest river in Texas, which flows for 1,896 miles.
The Trinity River is the deepest in Texas.
Brazos River is the oldest river in Texas.
Comal River is the smallest river in Texas.
The coldest river in Texas is the Frio.
The fastest river in Texas is the Guadalupe River.
What is the cleanest river in Texas? San Marcos River – why? It is clean and clear because it is fed by a freshwater spring.
The most beautiful river in Texas is the Rio Grande.
Part of the Brazos River is salt water.
An average cost of $10-$30 for camping in a Texas State Park.
River tubing in Texas is a big deal!
BONUS: The dirtiest river in the US is the Mississippi River.
PIN IT!