These 10 Things to do in Decatur, TX, start with coffee and crafts, then antiques and candy!
Decatur, Texas, is a small town in North Texas and is an easy drive from the Dallas-Fort Worth area, making it a great place to enjoy the country and southern home cooking. I don't think anyone would get bored with these 10 things to do in Decatur, TX. Driving distance – Decatur is about a 1-hour drive from Dallas and only 40 miles from Fort Worth.
The town is known to many who live there as "Eighter from Decatur." That's evident all over town with murals, signs, and postcards. Years ago, the town was named after a female railway worker who had a long gambling bout, and it stuck. But that's no longer going on in town.
Decatur will always have a small-town feel, but now with a modern twist. It's still a town where everyone knows each other and welcomes visitors with open arms.
Disclosure: We started early, met everyone for a coffee, then headed to the most fabulous studio in town to get our craft on. We spent an entire day with Ben, owner of DIY Studio Decatur, which included activities, lunch, and compensation. All opinions are our own.
10 Things To Do In Decatur, TX
Downtown Decatur, TX, is conveniently located within an easy drive for those seeking big-city offerings (Fort Worth or Dallas). However, the town has plenty of attractions for all ages, making it a wonderful place to spend a day, weekend, or week.
There are also many murals around town for excellent Instagrammable spots, and be sure to spot the old telephone booth in the city. Taking a mural tour might take a whole day!
1. Trinity Street Coffee Bar
We started our morning in Decatur with coffee at Trinity Street Coffee, located on the northeast corner of Decatur Town Square. Rory and I loved the vibe and those red chairs out front. It just gives it that inviting look and feels. Trinity Street Coffee Bar is a restaurant, bar, and coffee shop, which means you can eat, drink, and get your coffee spiked if that's your choice. The vibe outside is just as remarkable inside. And you can watch the roasters make coffee that starts with beans. Ask for a tour.
2. DIY Studio Decatur & 8fd Designs Warehouse Store
DIY Studio Decatur is unlike any other craft studio I've been to. Here, you make it your "own" way. If you don't like the picture, have something better in mind, and do not like your neighbors (unless theirs is better), make it your way.
Their motto is More Choices, More Fun – the choice is yours.
Here are some of the things available to make at DIY Studio Decatur.
Signs for your home or office
Candles
Jewelry
Home Decor
Woodworking
Knifemaking
Customize Corn Holes
Classes, Parties, Private Events
and more!
You're in for a surprise when you walk in. Before heading to the back where the studio is, you're in a warehouse full of Texas-made decor and pretty things I couldn't resist.
Yes, you can shop here too!
Most items in their warehouse store are 100% Texas-made right in the back of the store. There are a few things that other artists make and sell, and you won't even believe the pieces of glass for sale and the incredible things they make from the glass. Be sure to ask Ben to tell you the story of the glass found on his property!
3. Decatur, TX Visitors Center
Depending on what you do first, you'll want to swing by the Decatur Visitors Center to pick up information about Decatur and to see the Historic Decatur Post Office turned visitors center. The post office was built in 1936 and is quite the show-stopper. It is located at 106 South Trinity.
4. Shopping On The Square
There are lots of shops and eateries on the square that will keep you busy for the day. And marveling at the Courthouse is a thing to do, especially when it's this pretty (see more below).
Harper & Riley Chocolate Factory
Have you ever made chocolate? Besides clothing, decor, and gifts, they offer chocolate-making classes. If you visit during a non-class day, don't worry, you can purchase chocolate. We did!
Shop The Antique & Speciality Stores
The Decatur Town Square offers a unique shopping vibe with antique stores, boutiques, and good eats. There is something for everyone in the square.
Main Street Antique Mall
Who doesn't love to shop for antiques in Texas? It's one of my favorite pastimes.
Main Street Antique Mall is a large mall over twenty years old located on the square. Locals and travelers love this mall. I can remember finding a few antiques here that I still adore today.
Nooks And Crannies
For fun curiosities and antiques, check out this shop. It also has been on the square for many years.
5. Visit A Pottery Store
Take a pottery class at The Wright House Arts. It's a husband and wife duo with lots of art knowledge in that building! If pottery is not your thing, there are other things to make. Kids and adults alike will enjoy this art studio and its location.
Look for the vast windows next to the old historic telephone booth.
6. Indulge At Hey Sugar Candy Shop
Go ahead, walk inside Hey Sugar, and reminisce about the good ole days with its nostalgic candy from childhood. I remember eating those candy cigarettes and those bad-for-your-teeth Sugar Daddy. They also have various retro candies, retro sodas in glass bottles, and ice cream treats to share …or not.
7. Take A Courthouse Tour
With its solid pink granite, the Decatur Courthouse is one of the most beautiful courthouses I have ever seen. I couldn't stop taking pictures of it–it's that prestige. This is the fourth Courthouse in Decatur, built in 1896, and is the oldest Courthouse in Texas that has never been restored.
Courthouse tours are available by contacting the Visitors Center.
8. Capture Historic Downtown Decatur On A Walking Tour
Hopefully, you went by the Visitors Center and picked up a brochure on this historic walking tour. If not, take a leisurely walk around the square and notice at least 26 historic buildings. But the booklet tells it all – worth picking up.
9. Decatur Mural Tour
As I mentioned above, the town of Decatur has many murals. I believe they are making an app for all the mural locations. Be sure to contact Downtown Town Square.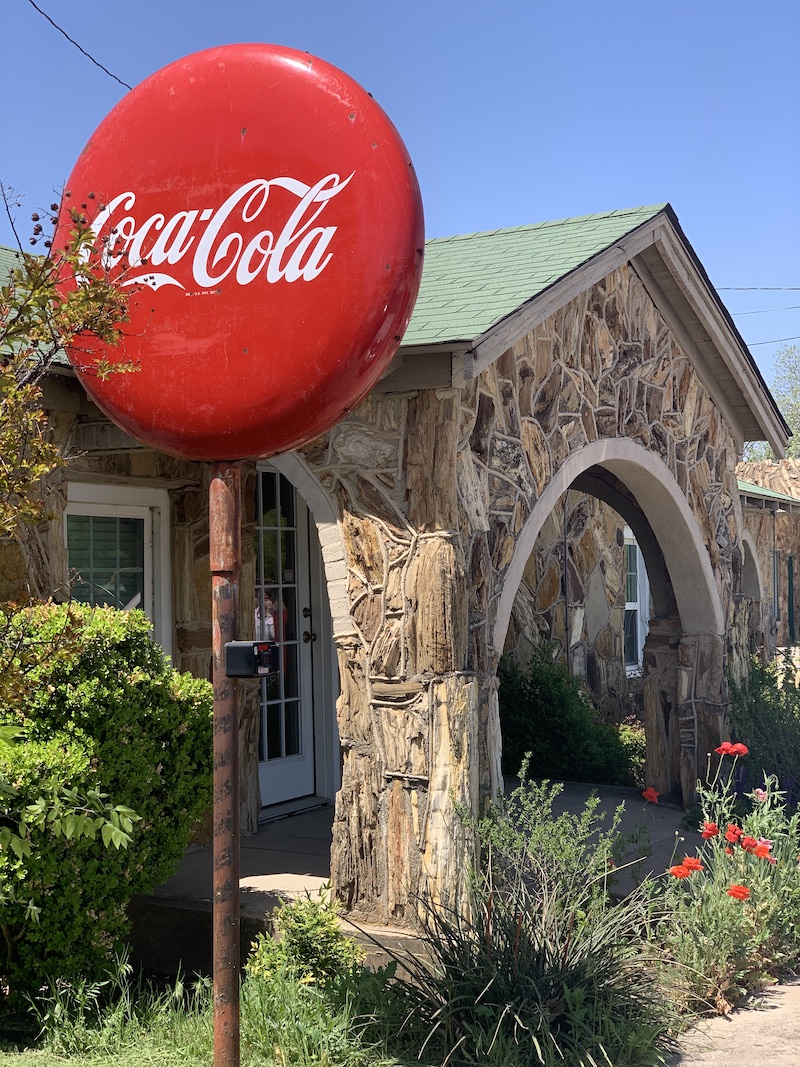 10. Petrified Wood Gas Station
This old historic gas station is a picture-worthy icon in Decatur. You'll meet J.R. – the petrified wood gas station owner if you're lucky like we were. He'll tell you about the Meridian Highway and this new thing called I-35! J.R.'s wife's grandparents owned and ran the gas station back in the day. It's a beautiful piece of history with its original gas pumps.
And, if you're double lucky to visit in April, you'll see the tulips and poppies growing wildly.
More Fun Things To Do In Decatur, TX
Wise County Historical Society Museum (a reader told me this burnt down)
Nock It Archery Center
Wise Axe Games in Decatur
LBJ National Grasslands
Several Wineries in the area
The Waggoner Manion – sad and abandoned, but it's a historic mansion
Places To Eat In Decatur, TX
There are plenty of good restaurants in Decatur. Here are a few of our favorites.
Whistle Stop Cafe
Whistle Stop Cafe offers large portions of down-home country meals at great prices. This restaurant is your stop Monday through Friday – closed on weekends. Don't worry if you're visiting on the weekend – there are plenty of other great places to dine in Decatur.
Travel Pro Tip: The cafe gets busy during lunch, so either go early or make it a late lunch to avoid the line.
Rooster's Roadhouse
Great burgers next to Trinity Coffee Bar and Hey Sugar
Sweetie Pie's Ribeyes
Sweeties Pie's is probably the most favorable place to have dinner in Decatur. It sits on the southwest corner of the square. My family and I have visited for their delicious rolls and peach cobbler several times!
Casa Torres Mexican Restaurant
A top Mexican food restaurant in Decatur that locals love. It can get quite busy for dinner, but reservations are not required. They have a nice area outside to wait if needed.
Places To Stay In Decatur, TX
Fairfield Inn
One of the most excellent hotels in the area.
Woodland Escape
Woodland Escape is a Texas-style private guest house rental on Airbnb where you can enjoy the entire guesthouse. Some amenities include a swimming pool, fire pit, and hot tub, and minutes away from LBJ Grasslands.
Bed And Breakfast In Historic Decatur
Courthouse Suites Bed and Breakfast is in the middle of it all in the Historic Town Square, within walking distance from the shopping and eateries. Just look for the orange door. There are three suites to choose from, but you must be able to climb the stairs.
Modern Decatur Farmhouse Getaway
Have you got a big family? You may want to rent the Modern Decatur Farmhouse that sleeps ten guests.
There you have it – lots going on in Decatur for sure!! I hope you've enjoyed reading about these ten things to do in Decatur, TX, and that you decided to spend some time there.
PIN IT!